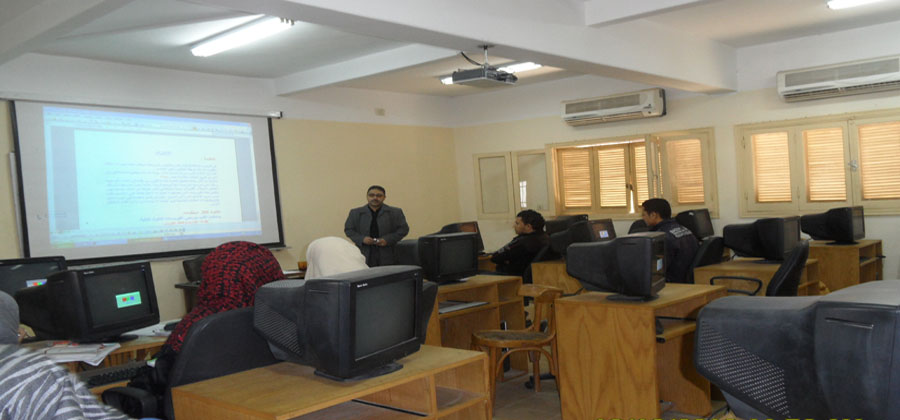 The department graduates students in the computer sciences specializations to meet the needs of instructional institutions and small industrial projects .It also provides them with the basics of knowledge and skills according to the international criteria and the requirements of the instructional institutions and small projects. Preparation of graduates in the domains of the specializations is based on comprehensive awareness of the community and the environment's problems as well as the professional ethics. The mission also extends to include upgrading the graduates' abilities through providing post graduate study diploma programs .In addition , the department contributes in enriching the applied sciences through original researches, community service and development of the environment through professional consultations and training programs .
The Vision of the Department :
The department seeks to achieve high quality and distinction and occupy an outstanding position on the map of higher education along its domains (instruction , scientific research ,community service and development of the environment). It aims at graduating students who have the ability to compete in the labour market, by providing a distinguished context for instruction, learning and scientific research .
The Aims of the Department :
Preparing ,updating and developing instructional programs , learning techniques and tools in all the sub specializations in the department which are in line with the department's mission .
Achieving a distinguished level of scientific research activities which are conducted in the department.
Upgrading and improving the professional level of all the elements of the instructional process and the research process as well as the administrative processes in the department .
Upgrading the efficiency and effectiveness of the community services through self evaluation to improve the output of the instructional process.
Facilitating the participation of the teaching staff in local and international conferences.
Upgrading the students' abilities to deal with technology in all the domains of the academic experiences.
Responding immediately to the opportunities and challenges resulting from the progressive technology.
Major Specializations:
Using the computer in education .
Using technology in library work domains

womens nike shoes
Running Sneakers Store | air max 95 animal size 7